Archive | July 2009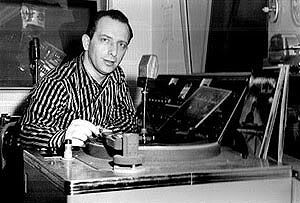 "Shep" refers to the great Jean Shepherd of "A Christmas Story" fame. "Bulldada" is unintentional hilarity, and, in this case, unintentional hilarity of the type that finds its way to you in the mail, slipped into a library book, hiding on a thrift-store shelf, or pinned to a public kiosk. Information that can CHANGE YOUR LIFE! Listen as Jean Shepherd, from April 1965, with True Slack, reads one such piece of Bulldada.
Playlist
Shep Bulldada 1
Alleee 1
Dick Jacobs and his Orchestra * Summer Song
Cliff Richard * Here Comes Summer
Shep Bulldada 2
Della Reese * Blue Skies
Vic Flick * The Most Unusual Word
Shep Bulldada 3
The Vulcans * Star Trek
Ruth Etting * Dancing with Tears in My Eyes
Shep Bulldada 4
Cliff Carlisle * Rambling Yodeler
Monique and Louis Aldebert * Volare
Shep Bulldada 5
Keith Mansfield * Smooth Remedy
Billy Banks and his Rhythmmakers * I Would do Anything for You
Shep Bulldada 6
Pine Valley Boys of Tilton, GA * Hot Corn
Libby Holman * Find me a Primitive Man (with the Bob Haring Colonial Club Orchestra)
Shep Bulldada 7
Santo and Johnny * Theme from a Summer Place
Betty Joe Bangs * Daddy was a Preacher and Mamma was a Go-Go Girl
Shep Bulldada 8
Neil Richardson * Hop, Skip and Jump
Die Crazy Girls * Hully-Gully Hop
Shep Bulldada 9
Bill LeSage and Tony Kinsey * Bossa Noches
Springbok Hits * Disco Charlie Brown
Shep Bulldada 10
Alleee 2
Bonus Tracks for Christmas in July
Chris Wind
The Five Petals
DOWNLOADING NOW CAN CHANGE YOUR LIFE!
The clips this week are from the film of the same name; the rant is from work.
You'll definitely want to check out a site belonging to the singer of "Rub-a-Dub:" Chris Wind. There's a lot of stuff on there that I'll be playing in the next several weeks, and even a great Christmas album!
Playlist
Alcohol is Dynamite 1
Alleee 1
The Frank Popp Ensemble * The Rural Assiduity
Ennio Morricone * Ninna Nanna Per Adulti
Alcohol is Dynamite 2
Smith Walbridge Summer Camps * Also Sprach Zarathustra
Chris Wind * Rub-a-Dub Dub
Alcohol is Dynamite 3
Irving Fields Trio * Spark of Jewish Pride
Fanfarlo * Comets
Alcohol is Dynamite 4
Enoch Light * Charleston Cha-Cha
Bonnie Haven * Total Woman
Alcohol is Dynamite 5
Flavia and the Motonets * Mike
The Midas Touch * Vida Tirado
The MUSIC VEST
101 Strings * Space Odyssey
Abe Burrows * Sea Shanty
Alcohol is Dynamite 6
Our Gang Music
Billy Mize * Solid Sender
Alcohol is Dynamite 7
Nancy Sinatra * Sugar Town
TV: That's For Me
Alcohol is Dynamite 8
Tracky Birthday * Intro with Pepe
Donald and the Delighters * Wang Dand Dula
Alcohol is Dynamite 9
Alleee 2
Download Alcohol is Dynamite!
This is the film from The American Meat Concern, or Institute or something.
Playlist
Beau Hunks * Our Gang Music
This is Life 1
Alleee 1
Billy May * Goin' Out of my Head
Shirley and Lee * Let the Good Times Roll
This is Life 2
Ennio Morricone * Giocoso, Gioioso
Tom James * Sample of Your Love
This is Life 3
Bernard Hermann * The Earth
Fanfarlo * Ghosts
This is Life 4
Frank Popp Ensemble * You've Been Gone Too Long
Delta Rhythm Boays * Get on Board, Little Children
This is Life 5
Enoch Light * Watermelon Man
Monique and Louis Aldebert * Never on a Sunday
This is Life 6
Billy Banks and his Rhythmakers * Yes, Suh
Norel Pref * Acolytes Out
This is Life 7
The Ray Charles Singers * Desafinado
Lecuona Cuban Boys * Tra-Ka-Tra
This is Life 8
Jim and Bob * By the Waters of the Minnetonka
Tracky Birthday * Free Dshimi
This is Life 9
Johnny Horton * Mean, Mean Son of a Gun
RIAA * That's a-Funky
This is Life 10
Alleee 2